Okay, I know it's February, but with the Oscars approaching in just one week, I'm finally posting my ranking of 2013 movies! Like last year, I tried to see as many as I could, but I'm sorry to have missed out on some promising new releases (
Before Midnight
,
The Wolf of Wall Street
,
Short Term 12
, etc.). The films I did see are ranked below, sorted by how much I enjoyed them. If you're looking for a long read, feel free to power through!
The Bad: You're never getting this time back
I paid to see this because it was my friend's birthday and she loves Darren Criss. About 10 minutes in, even she admitted it was terrible. By the time the "twist ending" rolled around, I was convinced it was one of the worst scripts ever produced.
Basically 2 hours of everything that's wrong with Hollywood action movies.
Just lazy and uninspired. Unfortunately, everyone and their extended family went to see this in theaters, so we'll be getting a sequel soon.
The most impressive thing about this movie is that it turned both Tina Fey and Paul Rudd into uncharismatic bores.
The Meh: Watchable, I guess
This would have ended up in the "Bad" list, but it does improve by the third act.
With its (literally) washed-out landscape and plodding pace,

Nebraska

is generally pretty boring. But Bruce Dern and Will Forte are alright.
F. Scott Fitzgerald's story is still great, but the bombastic art direction/visual effects/music were so, so unnecessary.
One easy fix: MORE BENEDICT. The script was fine, I suppose, but adding a

Dark Knight

-esque depth to Khan's story would have really made it special.
Mediocre glurge. The father-son storyline was good, though; it should've been the focus of the entire movie.
I thought I would love this, but it was super weird. Maybe I'm not quite as attuned to British humor as I think I am...
This was definitely inconsistent, alternately between relatively entertaining and boring/terrible. I kinda liked it, though? Perhaps it's because my newfound crush on Dylan O'Brien cannot be stopped.
I came into this expecting the worst, and the film was definitely… not good. It seemed to want to be both a ballsy comedy and a period-inspired romance, but it ends up achieving neither. However, I was shocked at how much potential I saw -- the casting of Keri Russell, JJ Feild (Mr. Tilney!), Bret McKenzie (FIGWIT!), and Georgia King were all spot-on, and the hilarious Jennifer Coolidge would've been even better with smarter material. Even the overall story arc seemed fine to me; it's just the individual lines and scenes that need considerable work. Had this script been rewritten to be witty and genuinely heartfelt,

Austenland

could've been a winner.
Although it contained the standard soul-less Marvel SFX extravaganza,

Iron Man 3

was enjoyable to watch, no doubt due to Robert Downey Jr.'s ever-charismatic portrayal of Tony Stark. I also enjoyed the sense of finality for a trilogy that -- for better or for worse -- launched Marvel's ongoing invasion of the global box office.
I'm pretty sure I would've liked this a lot more if I had actually seen

Mary Poppins

… Without context, though, I thought it was merely okay. The flashback sequences in Australia were wonderful, and more compelling to me than the story with Walt Disney. In fact, can we just have a movie about Colin Farrell's charming troubled alcoholic father figure?
Okay, so it doesn't entirely make sense, and there's virtually no character development. Usually, these would be major cinematic dealbreakers, but Now You See Me is just too much fun. It's the perfect fast-paced alternative to an endless parade of summer superhero franchises, and the cast -- including Jesse Eisenberg, Woody Harrelson, Mark Ruffalo, Morgan Freeman, and Michael Caine -- really elevate the material. Just as Hollywood hoped, I can't wait for the sequel!
I love baseball, and Jackie Robinson is probably the most unequivocally beloved baseball player of all time. So even though the biopic gets schmaltzy and sentimental at times, it felt like a fitting tribute to Robinson's legacy.
Nothing really happens in this movie, but that's okay, because it's beautifully shot and the songs are wonderful.
This wasn't necessarily good filmmaking, but I actually enjoyed it -- it's like watching a melodramatic soap opera starring a bunch of really great actors. In particular, I thought all 3 sisters (played by 3 Julis: Julia Roberts, Juliette Lewis, and Julianne Nicholson) were wonderful.
I really liked this movie -- its youthful exuberance, everything about Dane DeHaan's performance. But it was also a little bit too artsy for my taste, and I think the overall execution could've been a little more clear.
I always enjoy Richard Curtis movies. This latest one isn't his best, but it's probably the most thoughtful. Sure, some of the time travel plot holes veer toward nonsensical, but the funny, heartfelt, bittersweet moments are vintage Curtis.
A warm, grounded look at the blurred lines between friends and more-than-friends, Drinking Buddies is a small indie treasure in this list of predominantly commercial films.
This is a textbook example of what I would define as a solid movie: solid script, solid production, solid acting. Out of all these solids, Sam Rockwell is especially good.
Forget Baz Luhrmann,

this

is the Romeo and Juliet adaptation that we young 'uns want to see. And how cute is Nick Hoult?
As every reviewer has mentioned, the visuals are spectacular, and the film grapples with some interesting metaphors of death, letting go, and rebirth. Personally, I didn't find it particularly moving, but I can certainly see why it's been one of the most critically acclaimed films of the year.
The Hunger Games: Catching Fire
I love the Hunger Games as a franchise, and this installment is a solid continuation of the brilliant original. Pros: Better production value, better Peeta. Con: It lost a little bit of the first movie's emotional intensity.
It's nothing groundbreaking, but

Rush

is an incredibly well-made biopic-thriller featuring fantastic performances from both Daniel Bruhl and Chris Hemsworth. Seriously, during the screening I attended, a woman actually passed out because Daniel Bruhl was so convincingly pained.
I'm a huge fan of

The Fighter

and

Silver Linings Playbook

, so maybe my expectations for David O. Russell were just a little too high. I thought

American Hustle

was pretty good, but I didn't love it -- although the movie features great performances from a bevy of talented actors, the story structure needs significant revision. And surprisingly, I kind of disagreed with the reviews heralding Jennifer Lawrence in this movie; she's emotionally present as always, but her accent was wonky and Christian Bale/Amy Adams were far more nuanced and compelling.
These top 10 went through a lot of re-shuffling -- how you do choose between your favorites? Ultimately, I gave preference to the films that stayed on my mind long after the credits rolled.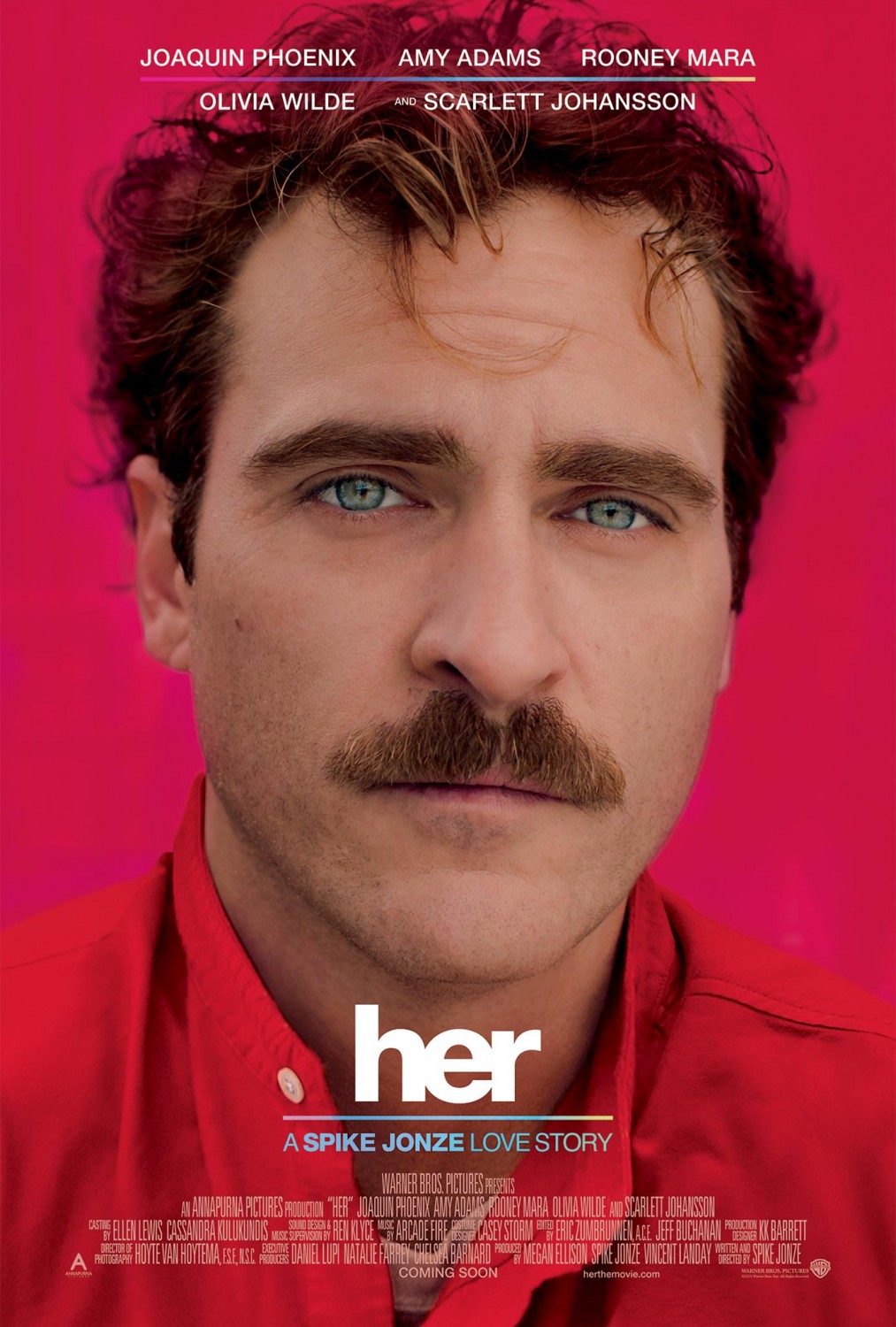 This movie is absolutely brilliant -- ingeniously written, wonderfully acted, and beautifully filmed. Although I personally didn't connect with it as much as I thought I would, the film is as sensitive as thought-provoking as they come.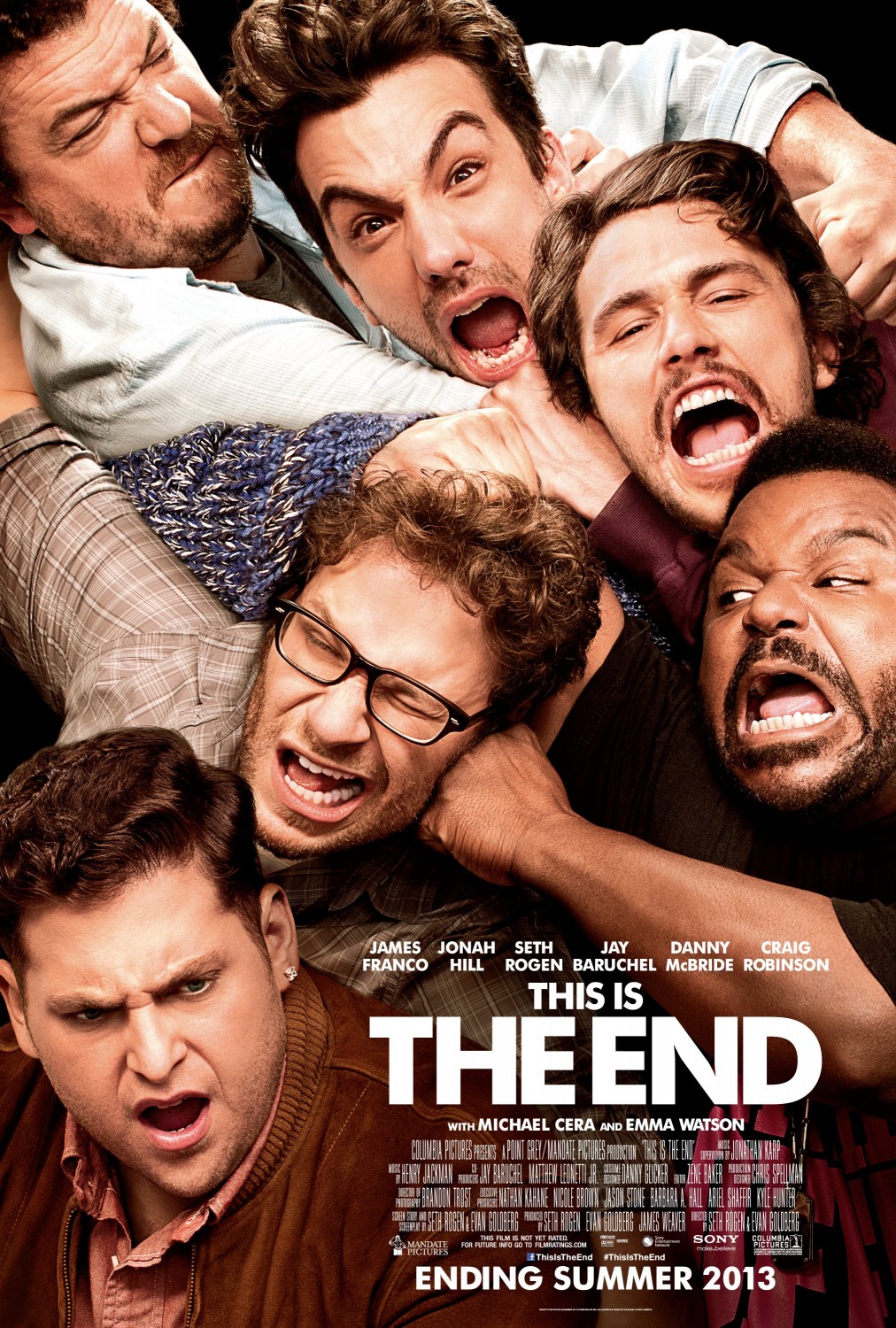 Irreverent, clever, and absolutely hilarious,
This Is the End
is by far the funniest movie I saw this year. Surprisingly, however, the story takes a few philosophical turns, elevating it beyond the standard crude comedy genre. Best of all, the film features a climatic Backstreet Boys dance party. If that's not great, I don't know what is.
8.
Much Ado About Nothing
It's tempting to grade this film on a curve because of its shoestring budget, but that's really not necessary. Joss Whedon's sparkling adaptation of
Much Ado About Nothing
is simply delightful from start to finish, and it's a must-see for even the most casual Shakespeare fans.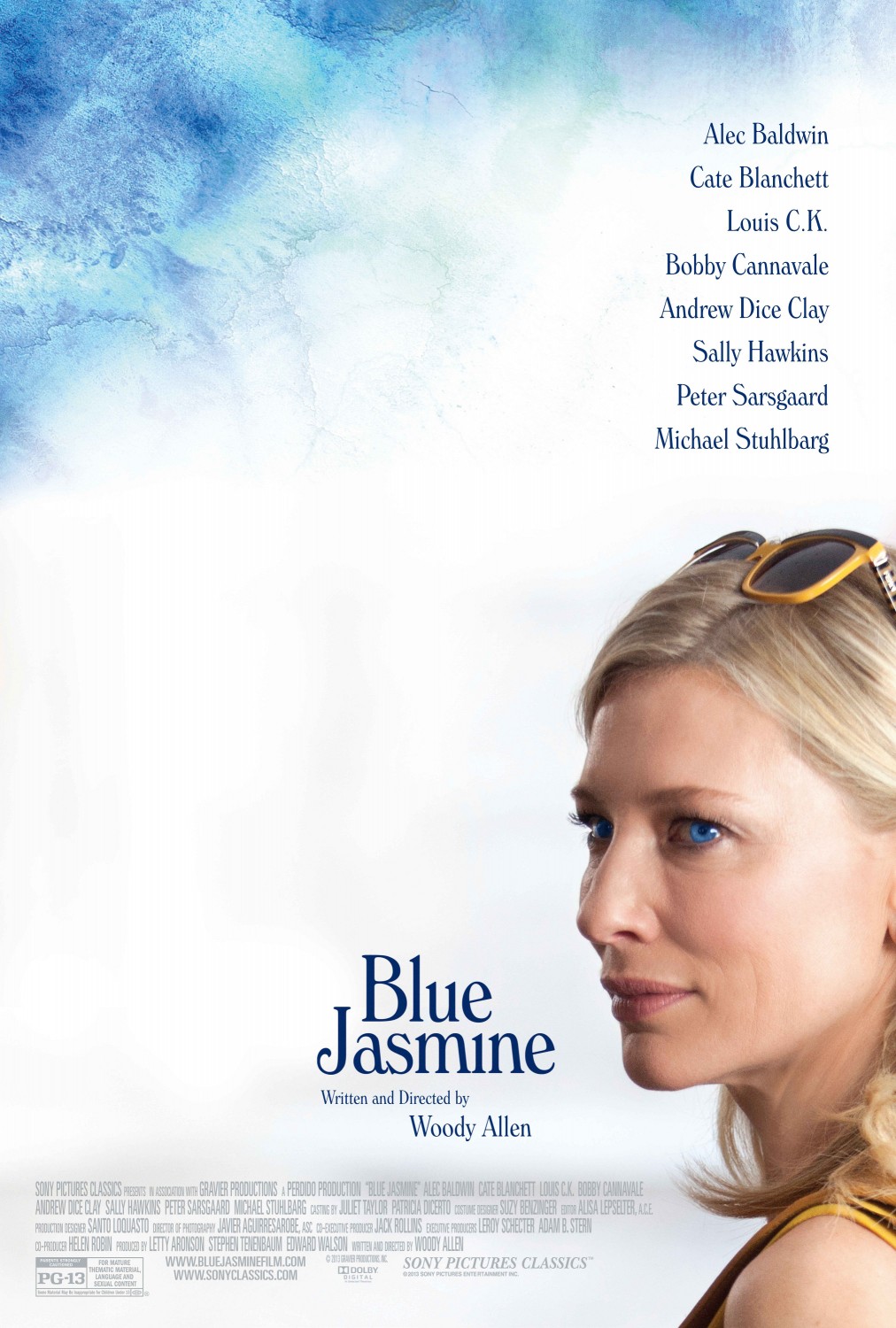 Cate Blanchett, you magnificent creature. In an utterly compelling and unforgettable performance, Blanchett veers seamlessly from from pretentious elegance to unhinged depression as the film cuts between Jasmine's privileged past and desolate present. The movie itself is great too -- Woody Allen's script is as sharp and perceptive as ever, and the supporting cast all do excellent work. But it's Blanchett who carries this film, humanizing a character who might otherwise prove impossible to like.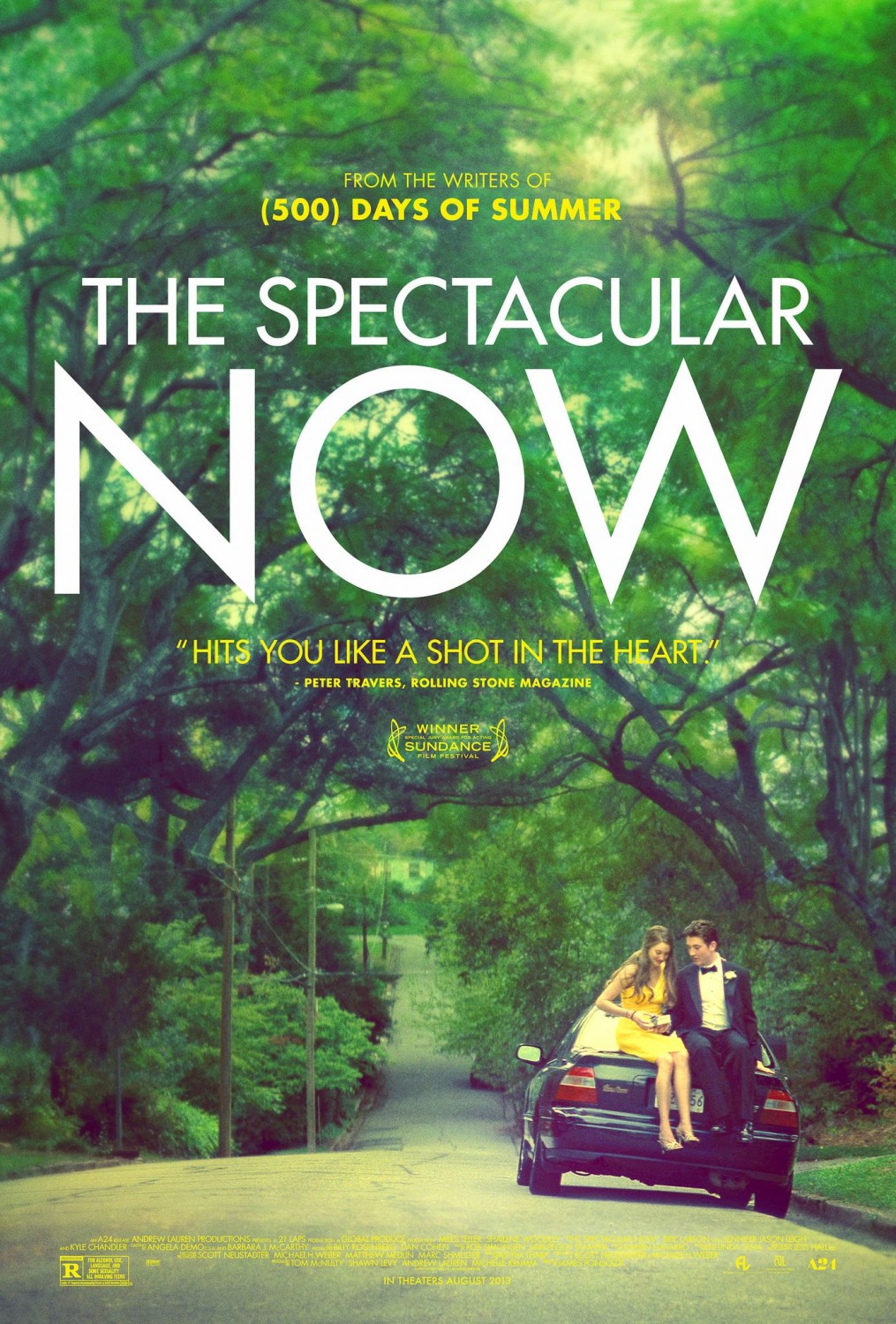 In my mental catalogue of "Ones to Watch", Miles Teller just jumped to the head of the list. His performance in
The Spectacular Now
is a remarkably fully-realized embodiment of, well, a real person. Not a dramatized Hollywood person, just a guy. Who needs a father, and meets a girl.
This little-seen indie is just so damn good -- it's warm, funny, and thoughtful, but it never takes itself too seriously. I promise you'll like it.
I haven't cried so hard in a theater since
Toy Story 3
. The tragedy of
Fruitvale Station
strikes a genuine emotional chord; by humanizing the late Oscar Grant, the movie demonstrates just how much he had to live for, and just how much he lost.
Always emotional but never cloying,
Dallas Buyers Club
is a stunning film about embracing life against insurmountable odds. I can't say enough great things about Matthew McConaughey and Jared Leto, who's collective talent completely legitimates America's taste in heartthrob-y celebrities. Filmed in just 25 days, there's just something incredibly special about this movie.
Walking out of
12 Years a Slave
, you get the sense that "Yeah, the reviews were right: This is an instant classic." It's the rare film that not only lives up to the hype, but transcends it. Even now, I don't have much to say -- just watch it, be amazed, and proceed to ruminate.
After 2010's
Tangled
and 2012's
Brave
, Hollywood has finally made a genuine, nuanced animated film about female empowerment.
Frozen
is an utterly entertaining success that deftly peddles its theme of (literal) sisterhood with wit, grace, and some irresistibly catchy songs. In an industry with clear delineations between blockbuster studio fare and niche independent films, it's so rare to find a movie that translates its thematic depth into universal appeal.
Frozen
is entertainment at its finest.